---
The Mini Cooper JCW Coupe R58 is a already very rare car. It is even more unusual when wrapped in Avery Dennison's brushed black vinyl wrap.
The brushed metal effect is not merely just a colour effect; it is textured to mimic the real thing.
The texture of the vinyl material added a new consideration to the wrapping process as the brushed pattern is directional. We applied all of the vinyl with its brushed pattern running longitudinally with the car, further adding realism to the faux brushed metal effect.
Avery Dennison Supreme red vinyl was used to wrap the roof & mirror covers (which were factory-painted silver), chosen for its high-gloss properties. The same was used to make computer-cut racing stripes.
The front grille & head/tail light surrounds were factory chrome-finished and we had refinished them in Supreme high-gloss piano black. The same vinyl was also used to cover the previously bare plastic wheel arches & body skirts.
Carbon fibre vinyl now wraps the bonnet air-scoop, door handles & rear spoiler, transforming them into components which look as if they were constructed of the high-tech material.
Other than vinyl wrap, the only non-standard accessory on this JCW is a Mini Cooper GP rear diffuser.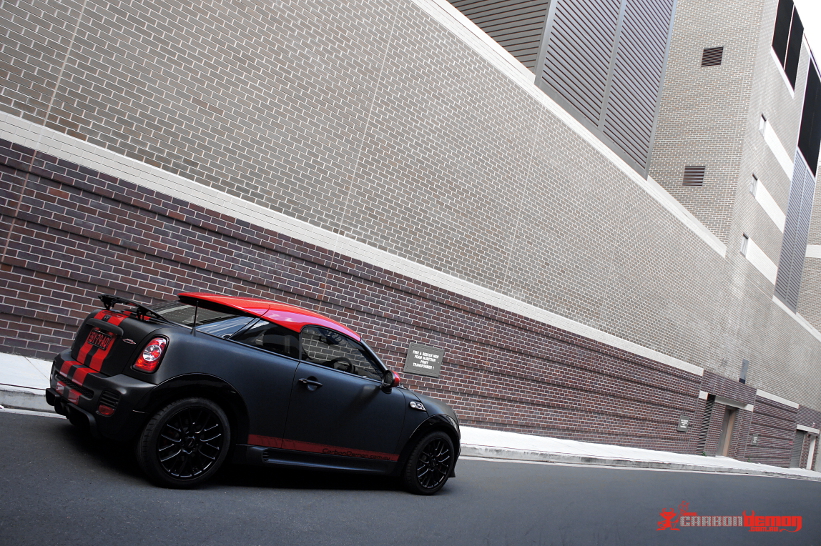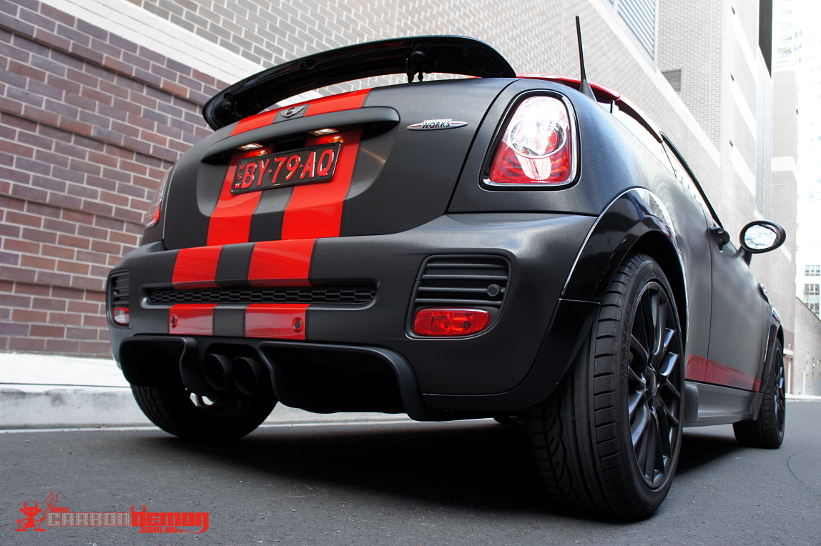 Vinyl types used (all Avery Dennison):
• Brushed Black    –   body
• Gloss Black         –  arch flares, front/side skirts, window moulds, head/tail light surrounds, front grille de-chrome & signage
• Gloss Red            –  roof, mirrors & body stripes
• Carbon Fibre      –  bonnet scoop, door handles, rear spoiler & garnishes
• SPF1000 Clear   –  clear anti-scratch stone guard on head lights